ENCAPSULATED THERMAL
MANAGEMENT PADS FOR ELECTRONICS
Thermal heat control in electronics is now possible without silicone oil contamination.
An alternative to low-thermal silicone-foam pads that cause oil contamination in electronics, Lundell Manufacturing's patented encapsulated silicone foam pads prevent oils from leaching and contaminating surfaces. In addition, these pads provide a soft, compliant and easy-to-separate gap filler that perform better thermally than state-of-the-art non-silicone alternatives.
Lundell encapsulates the gap filler material in an ultra-thin skin-tight film compliant enough to conform to surface features of components being cooled. It's proven, lifetime flexibility and durable, rugged construction do not tear or puncture even over extreme terrain.
Silicone Pad Oil Contamination
Traditional low-thermal resistant silicone foam-based thermal pads are used for filling large irregular gaps between heat sinks and electronic components. However, silicone foams contain five to six percent silicone oil. Under compression, with time, these oils will leach from the gap fillers and coat the surrounding surfaces.
Silicone oil can contaminate factory handling and cleaning equipment effecting most coating and soldering processes. Many electronics assembly manufacturers have banned silicone-based materials from their premises.
Custom Solutions
Lundell's encapsulated silicone-foam thermal management pads can be custom tailored for size, shape and placement of thermal pads to meet any product specification. Offered with any of the available silicone-based thermal materials on the market, these pads allow you to select the optimal gap filler without concern for extractable oils. Lundell can also combine silicone foams with other less expensive, more compliant material in one pad.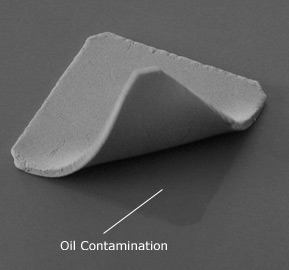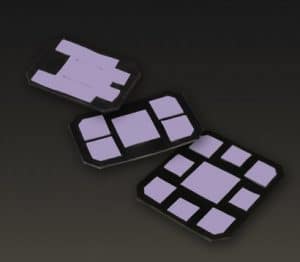 Performance Comparison
Silicone thermal pads are available in much higher conductivity. Higher conductivity materials make the performance gain of Lundell Manufacturing's solution over the non-silicone alternatives even more significant.
Encapsulated solutions are available with a thermally conductive pressure-sensitive adhesive, if desired. Adhesive adds approximately 0.22 oC/W-in2 to the resistance.